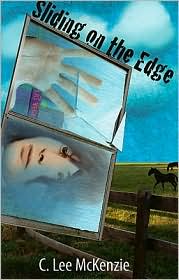 Details: Sliding on the Edge by C. Lee McKenzie
Pub. Date: April 2009
Publisher: Westside Books
Format: Hardcover , 267pp
Sales Rank: 1,026,384
Age Range: Young Adult
  Synopsis:
Something's wrong.
It's not a heart-grabbing noise like when somebody jiggles the doorknob to see if it's locked.
It's not a bitter smell like the electrical short we had last month, when all the breakers popped. No. It's something in the air, something like a ghost making its way through the room. And it can't be Monster, not after last night.
Shawna Stone is sixteen going on twenty-five.
Already deeply scarred, she has learned to survive with a tough attitude and a thin blade. Her journey is destined to be short. Sliding on the Edge enters the world of a desperate teen and her disillusioned grandmother, each with secrets that stir mutual distrust. As these two unlikely companions struggle to co-exist we are reminded that the human spirit has the capacity to overcome even the deepest suffering.
My Thoughts:
Shawna wakes up her in apartment in Las Vegas only to find that her mother has left her alone with a $100, a bus ticket to California, and a phone number of someone her mother claims is her grandmother.  Life has been really hard for Shawna who is always taking care of her mother.  She doesn't know what to expect but calls the number and meets her grandmother in a town in the middle of no where California where she is expected to do chores with the horses and she doesn't really fit in.  The monster chases her there too.  Shawna is found to be very smart but her teachers are worried about her stories and depression.
C. Lee McKenzie wrote a wonderful story that I think was very easy to connect to and see what the monster was even though it was never really said.  This made the story stronger in my opinion.  Topic like cutting and depression are very difficult for teens to talk  about or understand and I think this book does a great job at addressing them and ways to get help.
The additional story lines of Kay, the grandmother, who has had many troubled times of her own, from the death of her son to her husband leaving after his death to the challenges of running horse farm on her own with the exception of Kenny.  Kenny had troubles of his own as well when he landed on the farm door step offering help in exchange for a place to stay.   The addition of these charaters and their experiences to the book were invaluable.
My favorite part of this story however was a very minor part and that was Shawna's adjustment to taking care of the horse and not only that but jumping the fence and really taking care of someone else's horse that was being neglected.  In my mind, this was her opportunity to take care of something in a way her mother had never done for her.
My Rating:
This story just clicked for me!
*I was provided with a copy of this book from the author.  This in no way affected my views and opinions above.