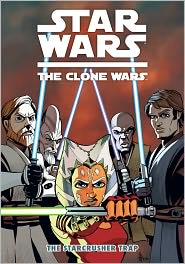 Star Wars: The Clone Wars: The Starcrusher Trap by Mike W. Barr
Pub. Date: August 2011

Publisher: Dark Horse Comics

Format: Paperback , 80pp

Sales Rank: 117,543

Age Range: 9 to 12
ISBN-13: 9781595827142

Source: NetGalley

This review is brought to you by my oldest son, A.  

Synopsis:
In The Starcrusher Trap, the Separatists unleash a terrifying new weapon on Republic-held systems – an enormous starship, the Starcrusher, is destroying every ship sent against it!
Yoda agrees to a risky plan to stop the Starcrusher, and assembles a Jedi strike force that includes Obi-Wan Kenobi, Mace Windu, and Ki-Adi-Mundi. Too late, the Jedi realize that the Starcrusher mission has become a trap – one specifically designed to kill Jedi!
A's Thoughts:
This book is called Star Wars: The Clone Wars The Starcrusher Trap. In it, Jedi Masters Ki-Adi-Mundi, Obi-wan Kenobi, Mace Windu, Jyl Somtay, Anakin Skywalker, and Padawan Ahsoka Tano, try to blow up a big Separitist ship that is bigger than their own ship. The pictures were good, because they had lots of detail, like how the artist drew the Jedi's capes and lightsabers. The author did a good job describing things like the ship. I thought it was a good story because it talked about more than just the Starcrusher. It also talked about what other characters were doing.
A's Rating:
A, my oldest son(10 years old), reviewed this book as 5 Penguins!  I hope that you will give him some comment love so he will come back and review more for us in the future.