In My Mailbox is a meme created by The Story Siren.
It is a pretty light week for books….Got both of these free at church but look like interesting reads.

Briar needs just two things: blood and vengeance. The first sustains her immortal life; the second gives it meaning.
First on her hit list is Gregor, the renegade vampire who schooled her in brutality, then betrayed and tortured her. To achieve her deadly ends, Briar joins the inscrutable Reaper and his misfit gang of vampires who are also hunting her old mentor.
But once she's destroyed Gregor, she'll be gone. The group means nothing to her. Not even Crisa—damaged, defenseless, a liability in every way—the childlike vamp with whom Briar shares a blood bond. Or Reaper. Though they shared one moment of pure passion, it's not as though Briar has feelings for him.
Because Briar needs no one. She needs only to satisfy her twin hungers—ones that may ultimately consume her.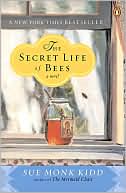 Synopsis
"The bees came the summer of 1964, the summer I turned fourteen and my life went spinning off into a whole new orbit, and I mean whole new orbit. Looking back on it now, I want to say the bees were sent to me. I want to say they showed up like the angel Gabriel appearing to the Virgin Mary, setting events in motion I could never have guessed." So begins the story of Lily Melissa Owens, a plucky girl, rich in humor despite heart wrenching circumstances. Living on a peach farm in South Carolina with her harsh, unyielding father, her entire life has been shaped around one devastating, though blurred, memory- the afternoon her mother was killed. Four at the time, she remembers innocently picking up the gun. And, she has her father's eyewitness account of the gun firing. People remind her it was an accident, yet she's inhabited by a torturous guilt. Lily's only real companion is Rosaleen, a tender, but fierce-hearted black woman who cooks, cleans and acts as her "stand-in mother."
South Carolina in 1964 is a place and time of seething racial divides. When violence explodes one summer afternoon, and Rosaleen is arrested and beaten, Lily is desperate, not only to save Rosaleen, but to flee a life she can no longer endure. Calling upon her colorful wits and uncommon daring, she breaks Rosaleen out of jail and the two of them take off, runaway-fugitives conjoined in an escape that quickly turns into Lily's quest for the truth about her mother's life.
Following a trail left ten years earlier, Lily and Rosaleen end up in the home of three bee-keeping sisters. No ordinary women, the sisters revere a Black Madonna and tend a unique brand of female spirituality that reaches back to the time of slavery. As Lily's life becomes deeply entwined with theirs, she is irrevocably altered. In a mesmerizing world of bees and honey, amid the strength and power of wise women, Lily journeys through painful secrets and shattering betrayals, finding her way to the single thing her heart longs for most.
What was in your mailbox this week?