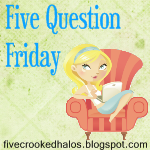 1.
Would you rather be on ABC's Extreme Home
MakeOver
or
TLC's
What not to Wear?
I would rather watch Extreme Home Makeover. I will cry every time I watch it but they are interesting stories.
2.
Do you have any tattoos?
I do I have a Celtic knot on my right shoulder – it is black and purple trinity knot
3. D
o you tell your kids about things you did growing up?
All the time, since I live 2 miles from my parents and my parents watch my boys before and after school, things come up all the time. Plus I live in the town I grew up in.
4.
If the traffic signal turns yellow, do you stop or speed up?
Usually stop. Sometimes speed up usually when someone else is on my tail.
5. What's your preference:
chocolate
or chips?
"Tell us about one of your posts from this week and give us a link so we can read it (review or otherwise)!"
Ok so I wish that I had a good blogging week now. I have had a lot going on at work this week so I didn't get much done. I would love to share what I did though.
What is your favorite romance hero-type? Stereotype wise. Do you like the strong silent type or the brute macho man?
I like a strong personality who just gets it done. Roarke in the In Death Series by JD Robb is my classic romance hero!