Published February 15, 2011 by Obsidian Mountain Publishing
Summary: Sold into slavery to pirates at the young age of four, Summer learns to survive the rough seas of subterfuge and thieves through silence. When the boat she's lived on most of her life is destroyed, Summer finds herself washed up on the shore of a new world, a phantom universe full of the bizarre and extraordinary. She meets Gage, the one boy who understands the girl with no speech. But when their lives are put on the line, will Summer finally call out? Or will all be lost in the fathomless depth of silence?
Wow!  I have been sitting her trying to figure out what I was going to say about this book.  It is really hard to put into words how I felt while reading this book other than I could not put it down and didn't want to see the end come.  Laura Krietzer did a wonderful job putting this story together.  There are parts that make you uncomfortable with the story line but then others that just touch on your emotions.  The book kept me guessing and I was never quite sure what the next page turn was going to bring.  I really don't want to give any of this story away – so just go get this book when it launches in February!
I am so glad that I was given the opportunity to review this book by Obsidian Mountain Publishing as an advance "e-copy". 
I was provided this "e-book" free of charge from Obsidian Mountain Publishing, but all reviews and comments are mine and mine alone.  I was not provided any further compensation for this review.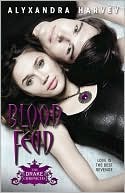 Product Details
Pub. Date: June 2010
Publisher: Walker & Company
Format: Paperback , 272pp
Sales Rank: 28,428
Age Range: Young Adult
Synopsis
It's been centuries since Isabeau St. Croix barely survived the French Revolution. Now she's made her way back to the living and she must face the ultimate test by confronting the evil British lord who left her for dead the day she turned into a vampire. That's if she can control her affection for Logan Drake, a vampire whose bite is as sweet as the revenge she seeks.
The clans are gathering for Helena's royal coronation as the next vampire queen, and new alliances are beginning to form now that the old rifts of Lady Natasha's reign have started to heal. But with a new common enemy, Leander Montmarte—a vicious leader who hopes to force Solange to marry him and usurp the power of the throne for himself—the clans must stand together to preserve the peace he threatens to destroy.
This second adventure in the Drake Chronicles—told from both Logan's and Isabeau's perspectives—has all the same butt-kicking action, heart-pounding romances and snarky humor that readers loved in Hearts at Stake, as well as exciting new revelations about the vampire dynasties to keep readers coming back for more.
My Review:
I really don't have a whole lot to say about this book. It was an okay read, but not something that I would pick up to read again.  It was difficult both bounce back and forth between two different points of view, as well as, present to flashbacks.  While I understand the history is important to the story I think that it made it a more difficult read that it had to be. 
Overall, the story has a decent plot but was very predictable.  I knew very early on where the story was going and what I could expect from the different characters.  For a simple just sit down and red book it is good for that but not for really getting vested with characters and wanting to know more.
I was most interested in the flash backs to the eighteenth century and what Istabeau had to do to stay alive in this troubled time in France. 
I would rate this book 3/5 stars