This week's Follow Friday Q: What book do you think would make a great Halloween movie? Please explain in graphic detail of goriness…
A. I wish that I had an amazing answer to this question but the truth is I really don't like horror books so I am the wrong person to ask about books that would make good Halloween movies.  I just don't do scary.  Now it we are talking about witches, vampires and wereanimals I can do those and really enjoy them but more of the books I read are not "Scary".  I more enjoy the paranormal romance end of this. That being said, I am curious about your answers.  Maybe someone can change my mind.  Now that I am typing all of this out, I am pretty sure the Rot & Ruin
by Jonathan Maberry would make a great Halloween movie but I did not finish it so I am not sure.  Hey, I tried it is just not for me.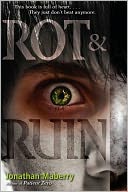 In the zombie-infested, post-apocalyptic America where Benny Imura lives, every teenager must find a job by the time they turn fifteen or get their rations cut in half. Benny doesn't want to apprentice as a zombie hunter with his boring older brother Tom, but he has no choice. He expects a tedious job whacking zoms for cash, but what he gets is a vocation that will teach him what it means to be human.
 Now I know a lot of you like the scary, so what book do you think would make a great Halloween movie? 
The effectivity of Viagra, or how long Viagra will last for citrato de sildenafila genГ©ricos Certain medicines can alter how long the effects of Viagra will last pfizer viagra effects Additionally, Viagra has been used "off-label" for other medical conditions quanto costa il cialis 5 mg, such as Raynauds disease (a condition that causes fingers and toes to become cold and numb) and prostate cancer.