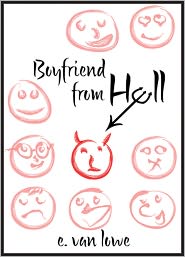 Boyfriend from Hell by E.. Van Lowe
Pub. Date: August 2011
Publisher: White Whisker Books
Age Range: Young Adult
Synopsis:
Fifteen year-old Megan Barnett and her single mom, Suze, have a special relationship—they are friends, close friends, who do almost everything together.
"But come on, guys, she's my mother… Can I really tell her that while we're snuggled up on the sofa watching Spider Man Three, I'm secretly undressing James Franco with my eyes? Of course not…"
The special bond takes a turn for the worse when Suze decides to start dating again. She hasn't had a man in her life since Megan's father left ten years ago.
Enter two mysterious young men, Megan's new classmate, sinfully attractive bad boy, Guy Matson, and the dangerously handsome art dealer, Armando. Before long Megan and Suze both wind up in steamy relationships. But neither of the handsome pair is quite what he seems. In fact, one of them is Satan, with his sights set on a new bride. Megan has precious little time to figure out how to stop him. If she doesn't, either Megan or Suze are quite literally going to HELL.
"Boyfriend From Hell" is the first book in the Falling Angels Saga from the author of the gruesomely hilarious, "Never Slow Dance With A Zombie."
Lisa's Thoughts:
I had a really hard time deciding what I was going to say about Boyfriend from Hell.  The biggest reason is that the book was just not a great match for me.  This is a totally personal opinion because the writing and editing and so forth was very well done.  For me the main character, Megan, is just too self absorbed and really just an all and out selfish person.  It is all about her and she does not really take anyone else into consideration until the very end of the books.  I really need to be able to connect with the main character in order for me to really enjoy a story and Megan and I are just too different.  I did enjoy seeing Megan grow throughout the book to be more self aware and aware of those around her.  Some of the people that end up being so important in this story are people somewhat like me who would have been lost in the wayside.  So in that matter, I enjoyed the story.  All in all, the plot was very unique which was great to see.  There were some twists and turns that I did not see coming.  I think that this would be a great fit for a lot of people so I hope that you will give it is shot.
Lisa's Rating
3 Penguins – a well written story just not for me.
Come back tomorrow to enter to win a copy of this book!