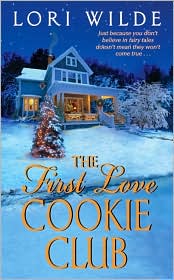 Product Details
Pub. Date: October 2010
Publisher: HarperCollins Publishers
Format: Mass Market Paperback , 384pp
Sales Rank: 5,718
Synopsis
"On Christmas Eve, if you sleep with kismet cookies under your pillow and dream of your one true love, he will be your destiny."
The townsfolk of Twilight, Texas, believe the legend, but not Sarah Collier—not since she was a pudgy teenager, running down the church aisle on Christmas Day in a jingle bell sweater and reindeer antlers, trying to stop Travis Walker from marrying someone else. She may be grown-up, slimmed-down, bestselling children's book author "Sadie Cool"now, but Sarah will never forget that day. And she'll never fall foolishly in love again!
But when a letter from a sick fan brings Sarah back to Twilight, she's shocked to discover that Travis is the little girl's father—unattached and hotter than ever. His smile still makes her melt, but Sarah knows that ship has sailed. Travis, however, might have different ideas.
My Thoughts
I was really in the mood for a Christmas book this season so I picked this one up. I was drawn to the cover and the fact that is sounded like cookies were involved. I was immediately drawn to Sarah Collier, aka Sadie Cool, author of the amazing The Magic Christmas Cookie. The premiese of her award winning book is the kismet cookies her grandmother and her used to make on Christmas Eve as the story goes you place them under your pillow and the one you dream of is who you are destine to be with forever. While the story has been a wild sucess, the cookies did not work out the way she had dreamed, as she reflects on the wedding she interrupted 9 years eariler. Sarah's PR person brings to her attention that she has been invited to a small town festival by a young girl named Jazzy who is very ill, as she reads the letter she figures out that it is Twlight Texas the same town that her grandma lived in when she interrupted this wedding. Despite all her hangup she goes back, who would have know that Jazzy is the daughter of Travis Walker, the man she thought she was destine to be with forever. This fun loving yet heart touching story of a small town and what they would do for each other is well written. It is a little unbelieveable but still makes you want to believe in the magic of Christmas. A nice simple read for this holiday season. It does make me want another book written to pick up where this leaves off. 4/5 stars.