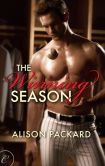 ISBN-13: 9781426895821

Publisher: Carina Press

Pages: 384

Source: Netgalley
Book Description:
Kelly Maxwell has finally landed her dream job as publicist for the San Francisco Blaze. But the team's newest member, handsome bad boy catcher Matt Scanlon, is refusing every interview. She's got to get him to open up before the season ends, or she may not be back next year. And after everything she overcame to achieve her dream, Kelly's not about to let that happen.
Matt Scanlon just wants to be left alone to rebuild his life and his career. After a year of masking the pain of a recent loss with hard partying and fast women, he finally hit rock bottom and was traded to a team he's loathed his entire life—a team with little to no chance at the post-season.
Butting heads is getting Kelly and Matt nowhere but annoyed, and with the team's schedule on the road, they can't avoid close quarters—or their surprising attraction to one another. As the season winds down, Matt finds his growing feelings for Kelly have brought his numbed emotions back to life. But when betrayal shatters their fragile trust, winning it all seems more impossible than ever.
My Thoughts:
The Winning Season drew my attention quickly with just it's description and kept it through each and every page.  It starts with Kelly who has landed her dream job working for the San Francisco Blaze Baseball Organization as a publicist.  She finds herself to deal with the newest catcher Matt.  Matt is in the worst possible place.  He has the job working for his favorite team because his life fell apart.  Matt got traded to the team that is his rival and is refusing to doing any interviews.  This leaves Kelly continually trying to convience him to do his job. not just on the field but off it as well.  From the very moment they met it has been an utter disaster.  
As Kelly is dealing with Matt and his issues, she is also dealing with something interesting going on in the office.  Kelly has always had challenges of her own that include an eating disorder.  When Kelly notices the signs in an intern, she had to figure out what she is going to do about it.  She knows that she can't come on too strong or she will drive the girl away.  She just wants to help her, but how.  I liked this twist on the story.  It made it about so much more than the electric spark that happens between Matt and Kelly as their relationship starts to change.  
Not only is all of this happening, but Matt's history is eluded to and it makes you want to figure out just what his deal is.  Matt has a deep secret and when it ends up public he blames the wrong person and causes him even more heart ache.  Matt is a very diverse character and one who drew me in and make me want to like him despite how frustrating he acts.
I liked the balance in this book.  There was a little bit of everything from laughter, to growing relationship, to anger and a little of everything in between.  It is so much more than just a sports book.
My Rating