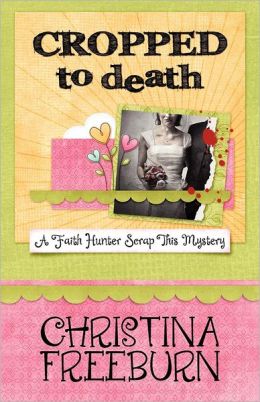 Synopsis:
Former US Army JAG specialist, Faith Hunter, returns to her West Virginia home to work in her grandmothers' scrapbooking store determined to lead an unassuming life after her adventure abroad turned disaster. But her quiet life unravels when her friend is charged with murder – and Faith inadvertently supplied the evidence.
So Faith decides to cut through the scrap and piece together what really happened. With a sexy prosecutor, a determined homicide detective, a handful of sticky suspects and a crop contest gone bad, Faith quickly realizes if she's not careful, she'll be the next one cropped.
Part of the Henery Press Mystery Series Collection, if you like one, you'll probably like them all! CROPPED TO DEATH is the first book in the Faith Hunter Scrap This cozy mystery series. Bonus: Includes book club discussion questions.
My Thoughts:
Cozy Mysteries are the perfect fit for a cool evening where I can curl up and just try to figure out who done it!  What really drew me to this book was it had to do with scrapbooking which is one of the other hobbies I enjoy. 
The book has a pretty simple main plot line.  First, the story is based around Faith, a former JAG member, and her grandmothers who own Scrap This, the local scrapbook store, along with their employees.  Marilyn, a Scrap This employee, has found out that her husband has been cheating on her and got this woman pregnant.  At the crop the evening before the big Art Festival, Marilyn is cropping her husband out of all kinds of pictures.  The morning of the festival Marilyn meets Faith on her way into the event complaining about her husband when he walks toward them with the other woman, when he should be at a ball game with his son.  Marilyn makes a very threatening comments about her husband who moments later turns up murdered.  With all that is going on, Marilyn is arrested for his murder, but not before she begs Faith to help her. 
Faith believes that Marilyn had nothing to do with the murder and knows what it feels like to be accused of doing something that you didn't do.  This is the first we learn a little about Faith's time with JAG and that she was accused of a crime that her husband committed.  She is hurt and has not told anyone, even her grandmothers about what happened.  Faith beginning to dig around and try to prove that someone else is the murderer.  Detective Ted Roget is the head on this crime and had to tell her numerous times to stay out of it before she gets herself into big trouble. 
The other story line is this book is that Faith's grandmothers keep throwing Steve, the local prosecuting attorney, at her.  They feel like Faith needs a man in her life and Faith knows it's happening but is not happy about it.  Steve also keeps trying to tell Faith to stay out it, but Faith keeps pushing forward.  Faith knew that if it was not for one person she would be sitting in jail rather than her now ex-husband. 
On the scrapbook side of things, the store is holding a contest using pictures from the art festival, well what took place of it due to the murder and giving away a fancy machine as the prize.  On the first night of the crop, only two people show up, one of whom is the detective. The front window of the store is broken while they are there are the newspaper gets a hold of the story that they are turning crop night into a singles night which turning out to really help the store.  Once all of the pages are turned in and hung, everyone leaves for the night only to come in the next day to find everything destroyed.  This is where we get down to the real story of who did it.
Overall, this was a fun cozy mystery that had enough detail that it help my attention and to be honest I didn't know who did it until it was revealed.  I thought I had it figured out a few times along the way but I was wrong.  I enjoyed the writing style and relationships in the story.  The one thing that I wish there had been more of was the background on Faith's time with JAG.  I think that it would have made it a stronger book.  It is listed very where that she is former JAG but really never get a good feel for it.
My Rating:
3 Penguins, a nice quick and fun read