We're very excited to be one of the many blogs participating in Teaser Tuesdays! TT is a weekly meme hosted by MizB at Should Be Reading. To participate you:

* Grab your current read
* Open to a random page
* Share two (2) "teaser" sentences from somewhere on that page
* BE CAREFUL NOT TO INCLUDE SPOILERS!
(Make sure that what you share doesn't give too much away! You don't want to ruin the book for others!)
* Share the title & author, too, so that other TT participants can add the book to their TBR Lists if they like your teasers!
And here is my teaser for Thieves like us by Starr Ambrose: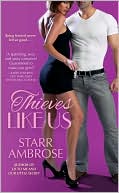 She had the necklace, so they're going to assume she has the rest of the collection.
It wasn't hard to imagine that Sleazy has another shady customer, but it was unlikely both would come back to lite him at the same time.
What are you reading?
What to do if you notice erectile issues viagra rezeptfrei 47c Gli effetti del Viagra if one viagra doesnt work can i take two I must say that youve done a amazing job with this cialis a san marino.