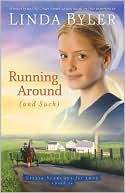 Product Details
Pub. Date: May 2010
Publisher: Good Books
Format: Paperback , 324pp
Sales Rank: 98,990
Age Range: Young Adult
Synopsis
A romance novel by an Amish writer, based on true experiences! It isn't that Lizzie doesn't want to stay Amish. There is just so much to figure out. What will become of LIzzie? Is she too spirited, too innocent and almost too uninhibited to be a young Amish woman?
My Review:
I was lucky enough to win this book and really did not know what to expect of it.  I was drawn to the idea that I might learn more about the Amish way of life and the challenges that it holds.  I was pleased that I was left wanting to know more about this culture. 
Lizzie Glick is the 2nd oldest of a family of 5 children who are moving to a new Amish community a great distance from their current home in Jefferson County to a farm because her father is looking for a new challenge.  We are walked through Lizzie as she learns about herself, God, and the ways of the Amish.  She is challenged with who she is and how she feels about the different boys in her life.  She is also challenged with how she fits into her family and working outside the home.  What drew me the most to this story was Lizzie trouble with her weight and self-esteem.  This was very real to me, something that has always been a struggle for me and it made me feel connected to Lizzie even though we come from very different backgrounds.  The book left me wanting to know what decision Lizzie will make for her future. I will look to read the following books in the future.
I rate this book 4 of 5 stars.