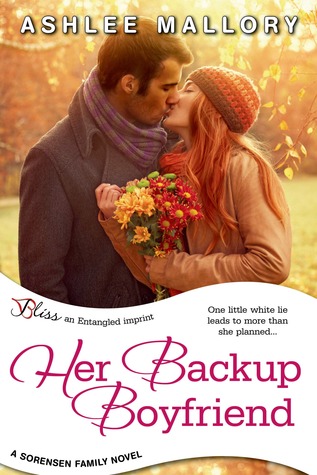 Her Backup Boyfriend
The Sorensen Family #1
Netgalley
Straight-laced lawyer Kate Matthews always plays by the rules. But when her ex gets engaged and a big promotion is on the line at work, she blurts out that she has a new boyfriend. And now that she's proved she "has a life" outside of work, everything is perfect. Except for one teeny little detail―there is no boyfriend. And now Kate's liable for her little white lie...
Dominic Sorensen is hot, charming, and very definitely not Kate's type. But not only does Dominic want to help Kate renovate her home, he's also willing to play "boyfriend." All he wants in return is a little pro bono work for his sister. Now instead of Mr. Right, Kate has a delectable Mr. Fix-It-Right―and some unbelievable sexual chemistry. And if falling for Dominic is a breach of contract, Kate is guilty as charged...
Review:
The first half of this book was really slow for me.  There was a lot of back story that really was not necessary and we really did not get a good idea of who the characters were or where the story was going for quite a while.  That being said, once I got past the half way point, things really picked up and I enjoyed the rest of the story.  The true colors and intent of the story became clear and it was an adventure to watch what seemed like just an arrangement to get a promotion turn into so much more.  This was the first book I have read by this author and I would pick another up.  It looks like this is the beginning of a series and I am curious to see what will come of some of the sub-characters.