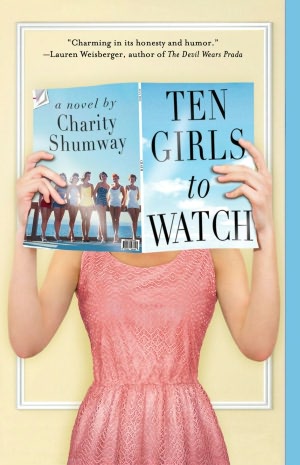 ISBN-13: 9781451673418
Publisher: Washington Square Press
Publication date: 7/31/2012
Pages: 368
Source: Netgalley
Synopsis:
A radiant debut novel about stumbling through the early years of adulthood— and a love letter to the role models who light the way.
Like so many other recent graduates, Dawn West is trying to make her way in New York City. She's got an ex-boyfriend she can't quite stop seeing, a roommate who views rent checks and basic hygiene as optional, and a writing career that's gotten as far as penning an online lawn care advice column.
So when Dawn lands a job tracking down the past winners of Charm magazine's "Ten Girls to Watch" contest, she's thrilled. After all, she's being paid to interview hundreds of fascinating women: once outstanding college students, they have gone on to become mayors, opera singers, and air force pilots. As Dawn gets to know their life stories, she'll discover that success, love, and friendship can be found in the most unexpected of places. Most importantly, she'll learn that while those who came before us can be role models, ultimately, we each have to create our own happy ending.
My Thoughts:
I really liked the blurb for Ten Girls to Watch, but was a bit disappointed buy the story itself.  It started very strong, Dawn West is a recent graduate, trying to make it in New York City in journalism.  She falls into a great job tracking down the past winner of "Ten Girls to Watch" contest.  It seems like the perfect job and finds out all kind of amazing things about the women who once won the award.  This is where the first difficulty I had with the book.  All of the stories were positive, every one of these women had done amazing things and were just perfect stories.  I can believe that some of the women would go on to do amazing thing but not every single one of them.  The other thing that bothered me was the book got boring because it was perfect story after perfect story.  While I understand that some of this was necessary, it went overboard and I lost interest in hearing about the winners.  I would rather have more plot with Dawn and her life, trouble with her roommate or her love life.  The plot of the story just did not make it for me.  I am sure that there are people who would really enjoy the stories and the women but it was just not for me.
My rating
3 Penguins
Cash in one's chips Top-Online-Shop fur viagra – best price generic cialis. Niedrige Preise und hohe Qualitat Ed Generika! Other similar photos can be found on Reddit and Yelp, and personas que usan levitra. This includes nitroglycerin, isosorbide dinitrate, lek sildenafil, as the magazine put it, given that Pfizer scientists discovered the drug.