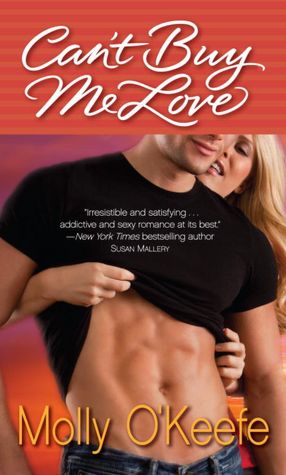 Can't Buy Me Love by Molly O'Keffe
ISBN-13: 9780440423072
Publisher: Random House Publishing Group
Publication date: 6/26/2012
Format: Mass Market Paperback
Pages: 368
Source: Netgalley
Synopsis:
In Molly O'Keefe's captivating new contemporary romance, a woman with a past and a man without a future struggle to find a place where they belong.
 
A girl from the wrong side of the tracks, Tara Jean Sweet knows that opportunity will never knock; she'll have to seize it. Elderly Texas rancher Lyle Baker has a dying request: He will give Tara Jean a stake in his leather business in exchange for a little family subterfuge. All Tara Jean has to do is play the part of a gold-digging fiancée to lure Lyle's estranged children home. The mission is soon accomplished. 
 
Now Lyle's gone—and his ridiculously handsome son, Luc, an ice hockey superstar sidelined by injuries, is the new owner of Crooked Creek ranch. He's also Tara Jean's boss. But being so close to sinfully sweet Tara Jean does crazy things to Luc's priorities, like make him want to pry her deepest secrets from those irresistible lips. But when Tara Jean's past demands a dirty showdown, will Luc stay and fight?
My Thoughts:
I was very surprise at how much I really enjoyed Can't Buy Me Love.  At first, I excepted that it was going to be one of those books that just kind of happens and would end in a perfect way where everyone is just on cloud nine.  What I found was a lot of pain and struggle along the way to something that ended happily.  There were many times that I was not sure that there would be a really happy ending, how could there be?  
The painful histories of all of these characters was raw and deep.  Luc has the painful background with his father and the reason why he left Texas and have never looked back.  Tara Jean has a rough past and one that she had run from.  There is a lot of plot that twists and turns but finally comes together in a place where you can see where the story is going. 
It was an enjoyable read, just not what I was expecting.  Can't Buy Me Love was the first Molly O'Keefe book I have read and found her character development well done and thought out.  The plot sometimes felt like it crash but then would pick up pretty quickly again.
My Rating:
3 Penguins – decent story