Shelia Roberts
Better Than Chocolate
Q&A Questions
I loved that this was about a small town chocolate factory with a ton of history.  Why did you choose a chocolate factory?
Well, if I had a family business, that is what I'd want to own. I love chocolate and I'm fascinated by the whole process that turns a very strange bean into something so wonderful.
Which of the Sterling woman was the most difficult to write?
Actually, Samantha my heroine was probably the hardest because she's the most opposite of me – a very type A, strong personality. Which is, of course, the kind of woman most capable of saving a failing family business.
Is one of them the easiest?
Samantha's mother Muriel was probably the easiest since I really identified with her. There's a lot of Muriel in me, especially when it comes to finances!
If Samantha didn't think that her mother's new husband was capable of running the business, why did she not stay more involved with the business to ensure it was okay? 
Samantha was in an awkward position of seeing problems and not having the position of  power to fix them – which happens a lot in the world of business. Not being the one in charge, she could only do so much. 
How did you decide to add the contest for men into the festival?
I thought that would be great fun. And the women in town sure seemed to enjoy it.
Will there be more books set in Icicle Falls?
Oh, yes. 
Many of your previous books have included recipes, will there be recipes to go along with this one?
Yes, this book has some fabulous chocolate recipes in it. 
What was your favorite scene in this book?
There were a lot of scenes I really enjoyed writing, but my favorite is probably the one where our heroine is dreaming about being chased by her archenemy the bank manager. It involves giant candy bar monsters and a vat of chocolate. 
What can we expect in the future?
I'm very excited about not only this book but the ones set to follow it and I hope readers will enjoy them. Merry Ex-mas, a holiday tale of wives and their exes will be coming out in November. After that What She Wants will be on the shelves some time next spring.
Do you have a favorite type of chocolate?
White chocolate with coconut. Yum!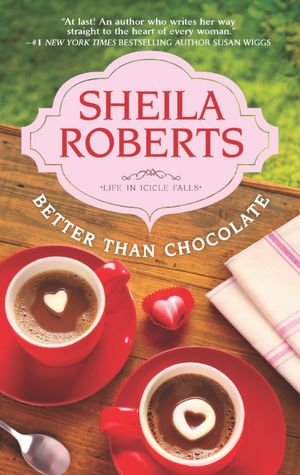 Better Than Chocolate
by Sheila Roberts
ISBN-13: 9780778313458
Publisher: Harlequin
Publication date: 9/25/2012
Format: Mass Market Paperback
Pages: 400
Synopsis:
Sweet Dreams Chocolate Company has been in the Sterling family for generations, ever since Great-Grandma Rose literally dreamed up her first fabulous recipe. But now it looks as if they're about to lose Sweet Dreams to the bank—and that would be a disaster, not only for the family but for the town of Icicle Falls, Washington. Can Samantha, the oldest daughter and new head of the company, come up with a way to save it?
After Samantha does some brainstorming with her mother and sisters, inspiration strikes. They'll have a chocolate festival! Time's running out, but the Sterling women are determined and the town's behind them, so everything's bound to go smoothly….
Or not. Events seem to be conspiring against Samantha, and her mother's attempts to help aren't helping. To make matters worse, the fate of her company is in the hands of her archenemy, Blake Preston, the bank manager with the football-hero good looks. It's enough to drive her to chocolate. But Blake's also enough to convince her that (believe it or not) there's something even better than chocolate.
About the Author: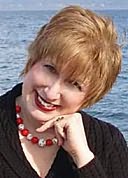 Sheila Roberts lives on a lake in the Pacific Northwest. Her novels have appeared in Readers Digest Condensed Books and have been published in several languages. Her book Angel Lane, was an Amazon Top Ten Romance pick for 2009 and her holiday perennial, On Strike for Christmas was made into a movie for the Lifetime Movie Network. You can visit Sheila on Twitter and Facebook or at her website (http://www.sheilasplace.com).