Going Nameless
By Alex Hughes
If you read Clean, you might notice after awhile that the narrator doesn't get a name. It shouldn't jump out at you – the novel's in first person, and most of us rarely think of ourselves by name – but he does, in fact, remain nameless all the way up to the last page of the book. Why is this?
Clean is a book about a guy stuck between lives, between what he was and what he wants to be again. In a very real sense his identity is as uncertain as the choices he'll make tomorrow, and that's reflected his lack of name. When he makes his choice as to life he really wants, that's when he gets a name. He embraces an identity by choice, and starts the process of making it a reality. He earns his name, so to speak.
This decision of course made my life as a writer a great deal more hairy. He can't say hello, for example; he has to "introduce himself." He has to say "It's me," and others have to call him by nicknames or not at all. But all that writerly tap-dancing lets me build to the moment of recognition, to the moment he names himself, without hitting you over the head. And, hopefully, it lets you realize the importance of what's happened in a real way, without too much drama or too much explanation. It, like so many of the important realizations in life, just is.
Clean is a thriller, where the main character and his detective partner-slash-love-interest Cherabino are always one step behind a devious serial killer. There's a lot of action and investigation. But it's also a story of this one guy, and how he got himself a name.
Information Sheet for Clean by Alex Hughes
Book Release date: September 4th, 2012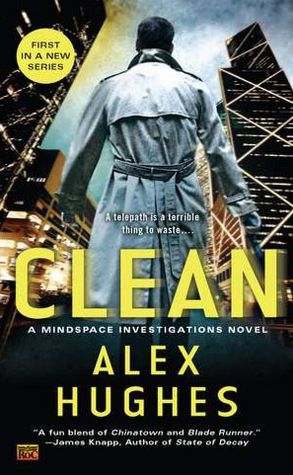 A RUTHLESS KILLER—
OUT OF SIGHT, OUT OF MIND
 
I used to work for the Telepath's Guild before they kicked me out for a drug habit that wasn't entirely my fault. Now I work for the cops, helping Homicide Detective Isabella Cherabino put killers behind bars.
 
My ability to get inside the twisted minds of suspects makes me the best interrogator in the department. But the normals keep me on a short leash. When the Tech Wars ripped the world apart, the Guild stepped up to save it. But they had to get scary to do it—real scary.
 
Now the cops don't trust the telepaths, the Guild doesn't trust me, a serial killer is stalking the city—and I'm aching for a fix. But I need to solve this case. Fast. I've just had a vision of the future: I'm the next to die.
Biography of the Author
Alex has written since early childhood, and loves great stories in any form including scifi, fantasy, and mystery. Over the years, Alex has lived in many neighborhoods of the sprawling metro Atlanta area. Decatur, the neighborhood on which Clean is centered, was Alex's college home.
On any given week you can find Alex in the kitchen cooking gourmet Italian food, watching hours of police procedural dramas, and typing madly.
Contact Information
Alex Hughes
www.ahugheswriter.com
Facebook.com/ahugheswriter
Twitter: @ahugheswriter
Order Clean today on Amazon: http://amzn.to/KTTbWc
at Barnes & Noble: http://bit.ly/K6G4ji
at the Book Depository: http://bit.ly/ND5iej
or at your local bookstore