Q: What book(s) are you reading right now? What do you think of it?
A.  Yeah!  What a great questions, I cannot wait to see what others are reading, I think that this is going to be a really fun Follow Friday.  So here it goes: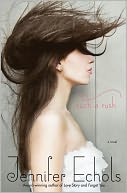 Such a Rush
by Jennifer Echols
I am not very far into this one yet maybe 40 or 50 pages I forgot to look when I put it down last night.  So far I like it, I know that there is a lot of drama coming but right now I feel like I can connect with Leah.  I love how she took her life in her own hands when her mother just didn't mother.  I was drawn in my the cover on this one and am so glad that I picked it up as my newest read.
 A Breath of Snow and Ashes
by Diana Gabaldon (Audio)
I know that you are all probably really sick of seeing these Outlander books but good news this is the last one until the new one comes out.  It was my goal to reread all of the books in this series before the newest one comes out.  Mostly, because I knew that I had forgotten a lot of the details.  When Audible offered them on special I decided that it would be a better idea to listen to them.  I have at least a 45 minutes commute to and from work each day and still these books take me over a month to listen too.  This one is over 55 hours.  I love this series.  Diana Gabaldon is an amazing author and I don't know how she does it but this is by far one of the best series I have ever read.  The download is broken into 7 parts and I am at least half way through part 2 so only 5ish more parts to go.  I am going to be sad when it ends.
Those are my current reads.  I hope you enjoy the little blurbs on them.  I hope you will leave me your follow Friday links below.  Have a great weekend!