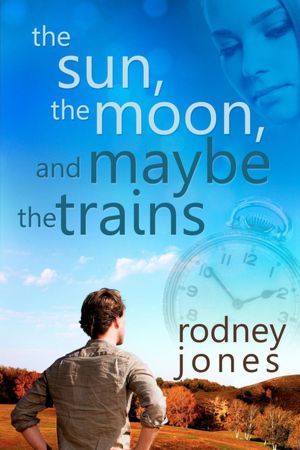 The Sun, the Moon, and Maybe the Trains by Rodney Jones
Please let us know a bit about yourself.
My roots are small town/rural. I like to get outside and walk a lot. I'll drive out to the country, two miles from home, and walk the quiet roads between the corn and soybeans fields. My mind dumps all the thoughts that I'd put on hold while writing. If I'm alone I'll sometimes talk to myself—exercise my vocal cords. Sometimes this turns into a conversation—a dialogue. Perhaps once a week I get out my bicycle and ride up the Cardinal Greenway. I'll ride thirty to forty miles, occasionally fifty, often with my daughter, Jody. We'll talk for the first twenty miles, then grow tired and quiet for the remaining trip back. Lately, I've been getting the itch to spend time alone in the woods. There's a certain hilltop in Charles Deam Wilderness Area overlooking Lake Monroe, which I especially like backpacking to. It's a beautiful area—somewhat isolated.
I have a vegetable garden too, all organic, lots of tomatoes, which usually end up as marinara. Now and then I pitch baseballs to my grandson Jory, or dance with my granddaughter, Emele. We do this thing we call 'song for the day' where I'll play old records to which we work out little dance routines. She loves it as much as I do. From time to time I do small carpentry jobs or stonework for income. I enjoy the work, but it tends to get in the way of my writing, so I avoid it as much as possible. I'm smiling, thinking of that line from the movie Office Space. "It's not that I'm lazy; it's just that I don't care."
And one more thing: I paint—oils—abstract. I was an artist long before I became a writer.
Why did you choose time travel?
The idea came to me while I was hiking in the Green Mountains of Vermont. I was playing a game in my head, imagining I was from a hundred and fifty years earlier, walking along, unaware that I'd entered a modern wilderness, wondering about all the little clues our environment holds that don't fit into a nineteenth century world. What would a person from 1875 make of the piece of surveyor's tape I found tied to a tree branch? I've always loved the idea of time travel, though I wouldn't go so far as to say it's a 'special' interest because I have so many interests. As much as I enjoyed writing The Sun, the Moon, and Maybe the Trains, I  can't see myself writing another time travel story. I have too many other ideas that I'm excited about.
How do you keep track of the different times travelled to in order to keep consistency in the story?
My story  contains only two separate time periods: 1875 and 2009. The narrative is first person—told from John Bartley's (a young man from 1875) point of view. The contrast between his experience of his time period and modern times provides clear place markers. There are some moments within the story where I create a little ambiguity there in order to place the reader closer to John's mental/emotional experience. I think readers will enjoy this particular aspect of the story.
What is your favorite scene in the story?
The scene toward the beginning of chapter seven, which takes place in Tess's car, parked near the ruins of Greendale. It's the first tender moment between John and Tess. Holding Tess's hand, John notices how child-like her hands are—how clean and unaffected by labor they are. And in this scene Tess shares a few intimate secrets with him, which may suggest deeper feelings. I have a strong romantic streak in me, but I like to steer clear of direct declarations of love.
What's coming next?
I'm sitting on three completed novels, all three of which I'm very excited about, though none have yet been seen by a publisher. The book I'm most interested in seeing in print is a funny, quirky, coming of age story that takes place on the planet Bufadu. It follows the life and struggles of Evelyn Hatfield, a young girl who is obsessed with sailing to a mythological continent called Methania. This story was a huge challenge for me, in that I had to create a new language (mixed up English) for the Methanian character, Fender (Evelyn's future love interest). I had to write gibberish in a manner that would not trip the reader and slow the pace while at the same time assure that my character is understood. I think readers are going to have a blast with this.
About the Book:
ISBN-13: 9781479328499
Publisher: CreateSpace Independent Publishing Platform
Publication date: 9/29/2012
Pages: 252
What would it take to convince you that the woods you just left is one hundred forty-four years distant from the one you entered?
Ten years have passed since the Civil War broke up John Bartley's family. Living with his aunt and uncle in the tiny village of Greendale, Vermont, isn't filled with excitement for a seventeen-year-old.
Until John walks into the woods one day and stumbles into 2009…
Fortunately, he chances upon the outspoken Tess McKinnon. To earn her trust, he must first convince her that he is neither a lunatic nor a liar. The proof he needs is buried at the end of a mountain road, where the ruins of Greendale lie just beneath a layer of dead leaves and moss.
What became of his home? Why is there no record of its existence?