I am very pleased to have Elsa Watson visiting with us today with her new book, Dog Days.  It is a funny and enjoyable book.  Check out my review following Elsa's guest post about Childhood Dreams. I hope you enjoy!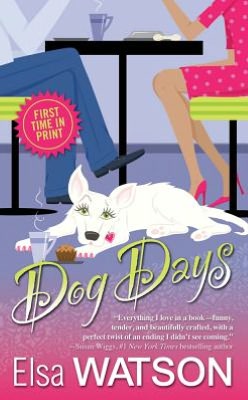 Childhood Dreams
Elsa Watson
Thank you so much for having me on Lisa's World of Books!  I was looking back the other day on my writing life, thinking about what brought me here.  I've been writing for the past sixteen years, but I didn't know right away that this was what I wanted to do.  Like a lot of people, I went through a period right after college when I couldn't figure out which direction to take. 
My major hadn't set me up to do anything practical, and all I really knew was what kind of work I wanted to avoid—anything having to do with public speaking, finances, or being a professional Santa's elf.  I'd been a Santa's elf for four long weeks one winter break, and—trust me—it's no life for the tender hearted.
After college, my husband and I joined the Peace Corps, setting out for a two-year stint in Guinea-Bissau, West Africa.  Right before we left, we were in Seattle, cleaning out my childhood room.  As I was digging around, I found a little time capsule I'd made for myself, hidden in one of those old plastic film canisters.  The note inside said "When I grow up, I want to be a writer or a teacher." 
I stood there, stunned.  There, in my own childish writing, was the guidance I'd been looking for.  I'd forgotten all about wanting to write—it just hadn't seemed practical during college, so I'd focused on other things.  But seeing those words brought it all back.  I suddenly remembered the book I'd written (and illustrated) in fifth grade.  I remembered all the stories I used to make up while I drew endless pictures of girls in Victorian dresses.  I remembered the English teacher who'd written on one of my descriptive essays "This may be your forte."  (I'd had to look up forte to learn what it meant.) 
As we headed off to Africa, that note stayed in my mind.  We had long, quiet nights in Guinea-Bissau that were perfect for writing.  I didn't have a computer—or even electricity—so my first book attempts were on the short side, all written out long hand.  But each one I finished gave me confidence to tackle the next one, and the next.  Those books were terrible, but they were a beginning.
Looking back, I have a lot to thank my childhood time-capsule-making self for.  If I hadn't read those words, I might not have taken advantage of those African nights.  I might never have tried writing down the stories that popped into my head when I lay down to sleep.  Considering the amount of joy I get from typing away on my work-in-progress, that would have been a tragedy indeed.
………………..
Elsa Watson is the author of Dog Days, in which Zoe (a dog) and Jessica (a person) are struck by lightning and switch bodies, leaving Jessica trapped in a dog's body—and giving Zoe thumbs and the chance to speak.  Find Elsa online at www.elsawatson.net.
My Thoughts:
Now if you had asked me before I read Dog Days if I would enjoy a book about a dog and human changing bodies and having to learn how to work together to accomplish goals and find a way to get back in their own bodies, I would have told you that it sounds kind of crazy and not really my type of book.  Well, I have to say that I was way wrong.  I really enjoyed this story and Elsa Watson does a great job of writing from Zoe, the dog, point of view when she suddenly finds herself in Jessica's human body.  The idea of switching bodies was a bit odd in the beginning but as the story progressed there was a lot more plot line than I had expected.  There are friendship and romances explored, the potiental failure of Jessica and Karrie's resturaunt, Glimmerglass, and the crazy Woofinstock festival in the town Jessica loves.  I enjoyed the lessons that both Zoe and Jessica learn and how they both want nothing more than to be back in their own bodies to go on with their lives.  This is a laugh out loud story, there are scenes that are a bit more serious but there are a lot more that the picutres that Elsa Watson paints are truly funny.  This would be a great beach read or book for travel.
MY RATING:
Be sure to check out the My Pet is Way Cuter That Yours Contest.
Thank to you Tor Publishing and Elsa Watson for allow me to be a part of this review and provided the book for review , in exchange for my honest review.