Waiting On Wednesday is a weekly event, hosted by Jill at Breaking the Spine, that spotlights upcoming releases that we're eagerly anticipating.
Our Wednesday Selections this week are….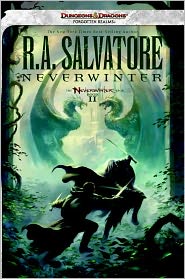 Neverwinter by R.A. Salbatore
Release date: 10/4/2011
Synopsis:
With the last of his trusted companions having fallen, Drizzt is alone–and free–for the first time in almost a hundred years. Guilt mingles with relief, leaving Drizzt uniquely vulnerable to the persuasions of his newest companion–Dahlia, a darkly alluring elf and the only other member of their party to survive the cataclysm at Mount Hotenow. But traveling with Dahlia is challenging in more ways than one. As the two companions seek revenge on the one responsible for leveling Neverwinter–and nearly Luskan as well–Drizzt finds his usual moral certainty swept away by her unconventional views. Forced to see the dark deeds that the common man may be driven to by circumstance, Drizzt begins to find himself on the wrong side of the law in an effort to protect those the law has failed. Making new enemies, as his old enemies acquire deadly allies, Drizzt and Dahlia quickly find themselves embroiled in battle–a state he's coming to enjoy a little too much.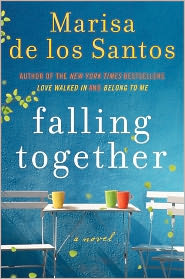 Falling Together by Marisa de los Santos
Release Date: 10/4/2011
Synopsis:
What if saying hello to an old friend meant saying good-bye to life as you know it?
It's been six years since Pen Calloway watched her best friends walk out of her life. And through the birth of her daughter, the death of her father, and the vicissitudes of single motherhood, she has never stopped missing them.
Pen, Cat, and Will met on their first day of college and formed what seemed like a magical and lifelong bond, only to see their friendship break apart amid the realities of adulthood. When, after years of silence, Cat—the bewitching, charismatic center of their group—e-mails Pen and Will with an urgent request to meet at their college reunion, they can't refuse. But instead of a happy reconciliation, what awaits is a collision of past and present that sends Pen and Will, with Pen's five-year-old daughter and Cat's hostile husband in tow, on a journey across the world.
With her trademark wit, vivid prose, and gift for creating authentic, captivating characters, Marisa de los Santos returns with an emotionally resonant novel about our deepest human connections. As Pen and Will struggle to uncover the truth about Cat, they find more than they bargained for: startling truths about who they were before and who they are now. They must confront the reasons their friendship fell apart and discover how—and if—it can ever fall back together.
Well, those are the books we are Waiting on.  What are you Waiting on Wednesday?  I'd love to find out!