Waiting On Wednesday is a weekly event, hosted by Jill at Breaking the Spine, that spotlights upcoming releases that we're eagerly anticipating.
Our Wednesday Selections this week are….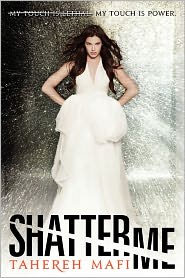 Shatter Me by Tahereh Mafi
Synopsis:
Juliette hasn't touched anyone in exactly 264 days. The last time she did, it was an accident, but The Reestablishment locked her up for murder. No one knows why Juliette's touch is fatal. As long as she doesn't hurt anyone else, no one really cares. The world is too busy crumbling to pieces to pay attention to a 17-year-old girl. Diseases are destroying the population, food is hard to find, birds don't fly anymore, and the clouds are the wrong color. 
The Reestablishment said their way was the only way to fix things, so they threw Juliette in a cell. Now so many people are dead that the survivors are whispering war- and The Reestablishment has changed its mind. Maybe Juliette is more than a tortured soul stuffed into a poisonous body. Maybe she's exactly what they need right now. 
Juliette has to make a choice: Be a weapon. Or be a warrior. 
In this electrifying debut, Tahereh Mafi presents a world as riveting asThe Hunger Games and a superhero story as thrilling as The X-Men. Full of pulse-pounding romance, intoxicating villainy, and high-stakes choices, Shatter Me is a fresh and original dystopian novel—with a paranormal twist—that will leave readers anxiously awaiting its sequel.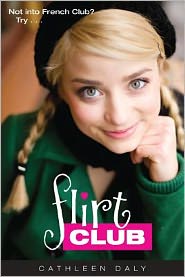 Flirt Club by Cathleen Daly
Synopsis:
Isabelle and Annie are two self-professed middle–school drama geeks who have no idea how to flirt with boys—successfully. Their sweet, awkward, and painful attempts at romance are getting them nowhere, so they start Flirt Club, an after–school support group for similarly afflicted friends who decide to take decisive and strategic action. Told entirely through notes passed in school, diary entries, and the occasional e–mail, Flirt Club is a hilarious and touching tween novel about love and lust with a heart, a brain, and a whole lot more.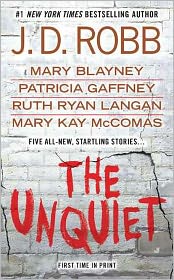 The Unquiet  
Synopsis:
Five New York Times bestselling authors-five superlative stories. 
From J.D. Robb: Eve and Rourke return to investigate a series of murders connected to a brilliant young surgeon in Chaos in Death. 
From Mary Blayney: A shopkeeper's solitude is complicated by a magic coin, a daring rogue, and dreams of her late husband, who whispers but one word…wish. 
From Patricia Gaffney: A lonely woman and a hotline psychic turn their astonishing connection to the other side into an unexpected romance. 
From Ruth Ryan Langan: The shattered soul of an angry spirit imprisoned in a Scottish manor house could be a young widow's only salvation. 
From Mary Kay McComas: A young ghost eases his brother's pain and guilt by inviting him into the dreams of an imaginative author of children's books.
Well that is my Waiting on Wednesday list this week – What are you waiting on?
Please be sure to tell me if you are a new follower….I have something going on but not ready to tell you about it yet.  I love surprises!