Waiting On Wednesday is a weekly event, hosted by Jill at Breaking the Spine, that spotlights upcoming releases that we're eagerly anticipating.
Our Wednesday Selections this week are….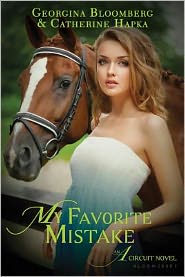 My Favorite Mistake by Georgina Bloomberg and Catherine Hapka
Synopsis:
Tommi, Zara, and Kate are all elite riders on the A Circuit. Tommi, the billionaire heiress, is training a young horse to prove she can make horses a real career. But when her new beau, Alex, convinces her to skip a horse show to party in the Hamptons, the results could be disastrous. Zara, the celebutante wild child, is finally taking her riding seriously. Until the new "nanny" her dad hires threatens to upstage Zara's party girl status. Then there's Kate. She doesn't have money to burn like the others, but she does have Fitz, the barn's resident hot guy. But when the pressure of being a working student builds, Kate's perfectionist tendencies threaten to get in the way of her relationship and her riding.
Readers who are growing out of the Canterwood Crest series or searching for an A-list fix have found just what they're looking for in the A Circuit series.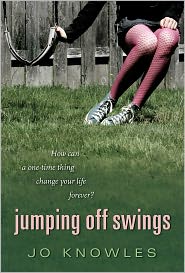 Jumping off Swings by Jo Knowles
Synopsis:
One pregnancy. Four friends. It all adds up to a profound time of change in this poignant, sensitively written YA novel.
Ellie remembers how the boys kissed her. Touched her. How they begged for more. And when she gave it to them, she felt loved. For a while anyway. So when Josh, an eager virgin with a troubled home life, leads her from a party to the backseat of his van, Ellie follows. But their "one-time thing" is far from perfect: Ellie gets pregnant. Josh reacts with shame and heartbreak, while their confidantes, Caleb and Corinne, deal with their own complex swirl of emotions. No matter what Ellie chooses, all four teenagers will be forced to grow up a little faster as a result. Told alternately from each character's point of view, this deeply insightful novel explores the aftershocks of the biggest decision of one fragile girl's life — and the realities of leaving innocence behind.
What are waiting on Wednesday?