Waiting On Wednesday is a weekly event, hosted by Jill at Breaking the Spine, that spotlights upcoming releases that we're eagerly anticipating.
Our Wednesday Selections this week are….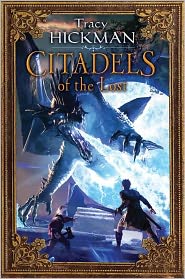 David's Choice:
Citadels of the Lost by Tracy Hickman
Synopsis:
The Rhonas Empire of elves is built upon a thirst for conquest, disdain for other races, and an appetite for hedonistic self-gratification. They have complete control of the Aether — the mystical substance that fuels their magic. One use of this Aether is to compel total obedience of the slaves drawn from the races they have defeated.
But there are legends that tell of a time when humans and other slave races were free and dragons flew the skies. And they speak of a hero who will return to lead an uprising against their masters: a human named Drakis.
When Aer magic, the magic of nature itself, is wielded by Jugar, a captive dwarf, it signals the start of a rebellion straight from legend. In the ensuing chaos, the former warrior-slave Drakis Sha-Timuran, with a small group of slaves, flees for his life and freedom — lured by a melody that conjures visions of dark wings, scales, and fire. Following the melody he alone can hear, Drakis stumbles on the truth behind the legends: the dragons are real!
Can they survive the dangers of this treacherous realm and bring the truth behind the legends to the army of rebellion?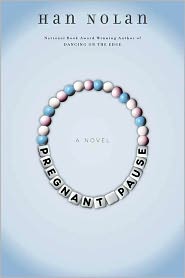 Lisa's Choice:
Pregnant Pause by Han Nolan
Synopsis:
A thought-provoking and courageous new novel by National Book Award winner Han Nolan.
Nobody gets away with telling Eleanor Crowe what to do. But as a pregnant sixteenyear-old, her options are limited: move to Kenya with her missionary parents or marry the baby's father and work at his family's summer camp for overweight kids. Despite her initial reluctance to help out, Elly is surprised that she actually enjoys working with the campers. But a tragedy on the very day her baby is born starts a series of events that overwhelms Elly with unexpected emotions and difficult choices. Somehow, she must turn her usual obstinance in a direction that can ensure a future for herself—and for the new life she has created.
What books made it on your waiting on Wednesday list this week?  I would love to find out!  Leave me comment with a link or your books!  Also, be sure to let me know if you are a new follower.  Have a great day!