Teaser Tuesdays is a weekly meme hosted by Should be Reading 

Grab your current read
Open to a random page
Share two (2) "teaser" sentences from somewhere on that page
BE CAREFUL NOT TO INCLUDE SPOILERS! (make sure that what you share doesn't give too much away! You don't want to ruin the book for others!)
Share the title & author, too, so that other TT participants can add the book to their TBR Lists if they like your teasers!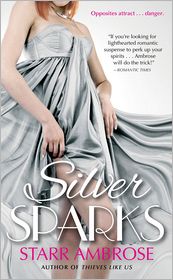 Silver Sparks by Starr Ambrose
Release Date 11/29/2011
Synopsis:
The Larkin sisters are used to hearing whispers behind their backs. Being raised by hippie parents in the small resort town of Barringer's Pass, Colorado, they were always considered oddballs, and for a while, they did everything they could to earn the name. But now, older and wiser, they're discovering that it's not so great to be the wild child, and are struggling to earn a new place for themselves in town.
When Maggie Larkin resists the come-ons of a sleazy actor in town to shoot a film, she pisses off more than a pretty boy and his manager. Turns out that Rafe DeLuca isn't just a movie star…he's possibly a killer, and Maggie's landed herself in more trouble than she could imagine. Enter Cal Drummond, cop extraordinaire, who's been trailing DeLuca himself for weeks, convinced that his recently murdered sister is one of Rafe's victims. He's determined not to let another woman be victimized by the dangerous Rafe, and if that means sticking like glue to Maggie, so be it.
Maggie and Cal seem like perfect opposites, but as we all know…opposites attract!
Teaser Page 42 in Galley – subject to change
Maggie's heart pounded at the implied violence, even though Rafe's expression went bland again.  He studied her as he nodded toward the window behind him. "You see those vultures outside?  They'll do anything for an exclusive with me.  Last chance- either you go along with my story, or I tell them a completely different one guaranteed to make the headlines.  Once I sic them on you, they won't stop picking at your until your bones are clean."
That's my teaser for the week – what about your Teaser Tuesday?