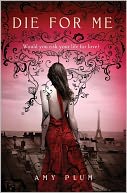 Details:  Die For Me by Amy Plum
Pub. Date: May 2011
Publisher: HarperCollins Publishers
Format: Hardcover , 352pp
Sales Rank: 15,796
Age Range: Young Adult

  Synopsis:
My life had always been blissfully, wonderfully normal. But it only took one moment to change everything.
Suddenly, my sister, Georgia, and I were orphans. We put our lives into storage and moved to Paris to live with my grandparents. And I knew my shattered heart, my shattered life, would never feel normal again. Then I met Vincent.
Mysterious, sexy, and unnervingly charming, Vincent Delacroix appeared out of nowhere and swept me off my feet. Just like that, I was in danger of losing my heart all over again. But I was ready to let it happen.
Of course, nothing is ever that easy. Because Vincent is no normal human. He has a terrifying destiny, one that puts his life at risk every day. He also has enemies . . . immortal, murderous enemies who are determined to destroy him and all of his kind.
While I'm fighting to piece together the remnants of my life, can I risk putting my heart—as well as my life and my family's—in jeopardy for a chance at love?
My Thoughts:
I loved the setting for this book – Paris!  I think that Amy Plum made the right decision setting this story in such a beautiful place.  It made sense with the old buildings and the layout of the town.  It allowed for good flow and romance to build in the story.  Amy does a nice job with her creation of a different type of paranormal, if you will, set of creatures.  It is an unique take on something that is very popular in today's literature.  I don't want to share too much because it was one of the best parts of the story and I don't want any spoilers here!
Another strong point for me with this book was the amount of history and culture that was demonstrated consistently thoughout the course of the story.  I enjoy to learn something that I did not know before through just a passing comment in a story and there were a few of these in this book.
One struggle for me in the book as I felt like the end just kind of came.  There was a lot of build up for a quick ending in my opinion.  I know that there is another book coming and that could have been part of the reason for the somewhat abrupt ending, but I personally would have liked to have seen it played out better.
Overall, I am looking for more from this series.  I enjoyed this story and hope there is much more coming.
My Rating:
An unique take worth taking a look at!
*I purchased this book. All opinions are my own.