On My Wishlist is a fun weekly event hosted by Book Chick City and runs every Saturday. It's where I list all the books I desperately want but haven't actually bought yet. They can be old, new or forthcoming. It's also an event that you can join in with too – Mr Linky is always at the ready for you to link your own 'On My Wishlist' post. If you want to know more click here.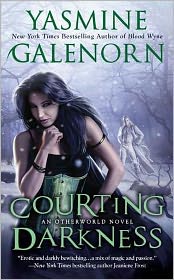 Courting Darkness by Yasmine Galenorn
Camille D'Artigo is Priestess of the Moon Mother and wife of a dragon. But her dragon father-in-law doesn't want her in the family. Captured and swept off to the Dragon Reaches, Camille must find a way to escape before her husband's father breaks her spirit…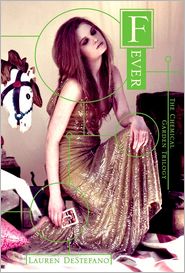 Fever by Lauren DeStefano
Rhine and Gabriel have escaped the mansion, but they're still in danger. Outside, they find a world even more disquieting than the one they left behind. Determined to get to Manhattan and to find Rhine's twin brother Rowan, the two press forward, amidst threats of being captured again . . . or worse.
The road they are on is long and perilous—and in a world where young women only live to age 20 and men die at age 25, time is precious. In this sequel to Lauren DeStefano's harrowing Wither, Rhine must decide if freedom is worth the price—now that she has more to lose than ever.
 The Hollows Insider by Kim Harrison
October 25, 2011
Synopsis:
"The world of the Hollows is fast-moving, funny, harrowing and scary, and—the greatest compliment to a fantasy—absolutely real."
—Diana Gabaldon
Welcome to the Hollows—Kim Harrison's remarkable shadow world of vampires, pixies, demons…and one unstoppable bounty hunter witch named Rachel Morgan. The Hollows Insider is your guide through the dark mysteries of this grimly twisted Cincinnati—featuring maps and illustrations, spells and character profiles, and much more, including an all-new Rachel Morgan short story. Fans of New York Times bestseller Harrison will not want to miss The Hollows Insider, a visitor's handbook to this creepy capital of the urban fantasy universe—on the same alternate globe, perhaps, as Charlaine Harris's vampire-ridden Louisiana, Jim Butcher's sinister Chicago, and Patricia Brigg's shape-shifting Pacific Northwest.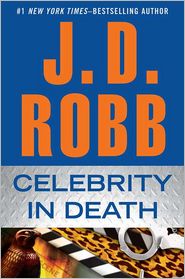 Celebrity In Death by J.D. Robb
Lieutenant Eve Dallas is no party girl, but she's managing to have a reasonably good time at the celebrity-packed bash celebrating The Icove Agenda, a film based on one of her famous cases. It's a little spooky seeing the actress playing her, who looks almost like her long-lost twin. Not as unsettling, though, as seeing the actress who plays Peabody—drowned in the lap pool on the roof of the director's luxury building. Talented but rude, and widely disliked, K. T. Harris had made an embarrassing scene during dinner. Now she's at the center of a crime scene—and Eve is more than ready to get out of her high heels and strap on her holster, to step into the role she was born to play: cop.
Now you know what is on my wishlist, what is on yours?