It's My Birthday Today 
What a better way to celebrate than bring a giveaway to you!
Now for a lot of you may look at this book and think that it is really not your style, I would encourage you to give something new a chance and enter to win one of 5 copies of The Magic of Recluce by L.E. Modesitt Jr. This is a 20th anniversary edition so you know that book must be great for that to happen.  So for my birthday give something new a chance.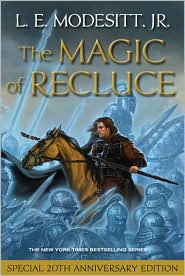 I am going to be using Rafflecopter for the first time for this giveaway so let me know what you think.