In the spirit of the Twitter Friday Follow, the Book Blogger Hop is a place just for book bloggers and readers to connect and share our love of the written word! This weekly BOOK PARTY is an awesome opportunity for book bloggers to connect with other book lovers, make new friends, support each other, and generally just share our love of books! It will also give blog readers a chance to find other book blogs to read! So, grab the logo, post about the Hop on your blog, and start HOPPING through the list of blogs that are posted in the Linky list.
"Do you read only one book at a time, or do you have several going at once?"
I love this question mostly because when I see all of the Monday posts sometimes I am amazed at how many books people get through every week! I usually have 2-3 books going at once. Usually one on my nook and 2 regular books – one for fun and one that I got for review. My nook I can take anywhere so it is always with me and I need to balance my reviews and books I want to read or I get really burnt out.
Q. How did you come up with your blog name?
Originally, I was going to call my blog Books, Kids, Animals and More because I thought that I was going to write about more that just books but then I realize that it was all becoming about books. I am not creative in the least so I went with the first thing that I thought of – Lisa's World of Books. That is a little bit of how I think of my house I guess a world of books. They are everywhere the eye can see. I guess that is where it came from.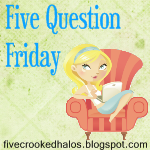 1. Have you ever testified in court? For what?
Almost but no I never have. When I was in High School, I got rear-ended and almost had to go to court but ended up not having too. I am glad I would have been so nervous.
2. Do you still have your wedding dress?
I sure do. Even pull it out on rare occasion just to see if it still fits. For some reason, that really matters to me.
3. Is there a special place you like to go when you're happy, sad, stressed, etc.?
I never really thought about this but no I really don't have a special place. My husband and I have a special place – it is called Cobblestone Manor – a beautiful bed and breakfast not far from where we live.
4. If you have kids, do they sleep with you? If you don't have kids…will you let your kids sleep with you when/if you have them?
I do have kids – two boys – they are 9 and 10 now. They are growing up so fast. On to the question – no they have never slept with us. We have had living room floor "camping" trip but that is it.
5.
Do you watch late night TV?
Nope, I need at least 7 hours wroth of sleep or I am useless.
Alright everyone – Please share some of your answers with me. I really want to get to know all of you more!