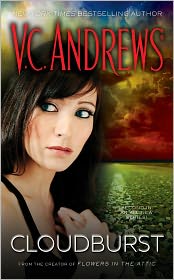 HAPPY RELEASE DAY!!!
Second in an all-new series!
Cloudburst, from the creator of Flowers in the Attic by V.C. Andrews®
Fate swept Sasha Porter into the lap of luxury, and into a torrent of bitter lies and shocking betrayals—all revealed in the riveting new novel CLOUDBURST (Pocket Star Books; October 25, 2011; $7.99) from bestselling author V.C. Andrews®.
Since being taken in by wealthy Mrs. Jordan March and living in her exquisite home like a daughter, Sasha Porter's traumatic past—destitute on the streets, and the shattering accident that killed her mother—seems like a fading nightmare. Beautiful and sophisticated, as bold and daring as her "sister," Kiera March, Sasha still keeps her mother's wise words close to her heart: never fully trust anyone. Inside her privileged new world, it's advice that will prove more precious than gold.
Against the wishes of Jordan's husband, Donald, Sasha attracts the attention of Ryder Garfield, a shy, handsome athlete, and maneuvers her way into his heart. But Ryder's hidden torment soon explodes in a horrific tragedy that pulls Sasha into a flood of guilt and despair. And when someone she thought she could trust targets her vulnerability, Sasha recalls her mother's warnings—and a violent storm of dark deceptions and shocking family secrets is unleashed. Will she sink or swim?
Giveaway:
Thanks to Melissa at Simon and Schuster I have one copy of Cloudburst to giveaway to a lucky winner.
Please use Rafflecopter Below to enter.