"If I gave you £50 (or $80) and sent you into a bookshop right now, what would be in your basket when you finally staggered to the till?"
Oh What a great question… okay let's see.
Q. Just like Ashley said (love it) "Ashley the girl…" who are You the Boy/Girl, instead of You the Blogger?
I am Lisa the girl. The 31 year old mommy of two boys ages 9 and 10 and wife of a construction worker for the last almost 11 years and Group Quality Analyst in a call center for a major auto maker. I have 1 cat, 1 turtle and 1 horse. I started my blog in November and have just been enjoying it and finding my voice.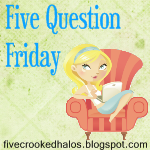 1. Do you know what your REAL hair color is?
Well, it used to be blond but it is changing over to more of a light brown. Not sure how I feel about that yet.
2.
Do you plan ahead for summer, or fly by the seat of your pants?
For the most part I work during the summer but we do have 1 week planned and that is for the Oakland County Fair.
3. What is your favorite meal to cook?
I am not picky I just enjoy cooking sometimes. Not all the time but sometimes.
4. Do you get offended by not receiving thank yous?
No, I think that times are changing and I need to change with them.
5. How did you meet your best friend?
My best girlfriend is Christie and we met when we started 6th grade. That was quite a while ago.
My best boy friend is my hubby and we meet when we were both taking a class between our junior and senior years of high school at a local University.
What about you guys? I would love to know your answers to any of the above questions!