Q. Do you have a favorite series that you read over and over again? Tell us a bit about it and why you keep on revisiting it?
I do have a favorite series that I come back to but only every couple of years, typically when a new book is coming out because I need to be able to remember what has happened, and a TON happens.  Each book is about 1200 pages long so there is a lot to remember.
The series is Outlander by Diana Gabaldon.  Here is what the author has to say about this series (from her website).
The OUTLANDER series started by accident, when I decided to write a novel for practice, in order a) to learn what it took to write a novel, and b) to decide whether I really wanted to do that for real.  I did, and I did–and here we all are, still trying to figure out what the heck you call books that nobody can describe, but that fortunately most people seem to enjoy.
In essence, these novels are Big, Fat, Historical Fiction, ala James Clavell and James Michener.  However, owing to the fact that I wrote the first book for practice, didn't intend to show it to anyone, and therefore saw no reason to limit myself, they  include…
history, warfare, medicine, sex, violence, spirituality, honor, betrayal, vengeance, hope and despair, relationships,
the building and destruction of families and societies, time travel, moral ambiguity, swords, herbs, horses,
gambling (with cards, dice, and lives), voyages of daring, journeys of both body and soul…
you know, the usual stuff of literature.
I don't like  to do things I've already done, so (in spite of the fact that this is a series, and does involve the same central characters throughout) each book is unique in structure, tone, approach, and theme. The books can be read independently of each other (I can't be sure that people seeing the newest one on a bookstore table will realize that it's part of a series, so the books are (with minor exceptions) engineered to stand alone)–but if you have a choice, I'd strongly recommend beginning at the beginning, with OUTLANDER, and reading through the story in order of publication  (I'd say "in chronological order," but that isn't necessarily a useful term when you're playing fast and loose with time, which I not infrequently do):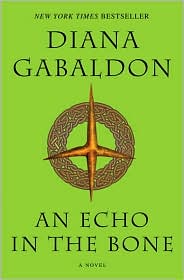 I love the history and pure plot and idea behind this series.  Also, the character list is OUTSTANDING and so very diverse.  Overall, I just love this series and would highly recommend it.
I hope that if you don't already follow me that you will consider joining.  Happy Friday!