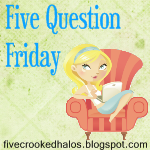 Here are this week's questions:
1. Have you worn the same outfit more than one day in a row?
I don't think so, but who knows in high school you never know.
2. If you had to choose any LARGE city to live in, which would it be?
3. Fly or drive with the kids on vacation?
Drive – we never go far enough to fly
4. What is your idea of "spring cleaning"?
Changing out the clothes, opening windows, making everything fresh again after being cooped up.
5. What is the best book you have ever read?
I have no idea what the best book is. I love to read and enjoy each book.