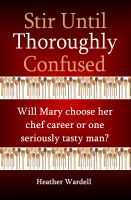 This book is especially enjoyable for me since it includes some of my favorite past characters: Candice and Ian and Larissa from "Life, Love, and a Polar Bear Tattoo", Jen and Forrest and Tess from "Go Small or Go Home", and the one who generates the most "I want to know what happens next" email: sexy but occasionally impossible Kegan Underwood from both of these books.
If you'd like to read more about Kegan, and find out what the others have been up to, this is your book!
Mary's given up everything, including an unsatisfying marriage, to become a chef. But the career comes with a side dish: Kegan, her sexy but controlling new boss.
They're soon in a relationship, and in all-too-frequent arguments, and when it becomes clear they can't work together and be together Mary faces a dilemma: keep her dream job or her dream man?
---
My Thoughts:
I know that I have read a lot from Heather Wardell in the last month and that is because I can't tell you how much I enjoy her writing, not just the style but how she pulls me into the story and leaves me begging for more! I was even more excited about this because it meant that I got to meet up with my favorite characters from Life Love and a Polar Bear Tattoo and Go Small or Go Home. I love that Heather starts these books with the climax or huge turning point in the story and then walks you through the story leading to that point so that you are constantly guessing about what was going to happen.
The Characters-
Mary – I was able to connect with Mary right away. She has left everything behind and moved to Toronto to fulfill her dreams of being a chef. Things are not going as she had hoped they would. Mary has the interview of a lifetime only to be told that she should come back in 3 months and things might change. I love that Mary is so determined that she parks herself on Kegan's flower box until he hires her. I love that she is a strong willed woman who goes after what she wants….will she get it in the end?
Kegan – When we first meet Kegan in Life Love and the Polar Bear Tattoo I thought that he was a bit of a jerk. Don't get me wrong, he was an attractive jerk, but a jerk none the less. He holds true to his stubbornness in this book, but he has had some changes in his life and he is trying to change how he reacts to people. I loved getting to know him better and decided that he isn't the jerk I thought that he was.
It was also great to get to see what was happening in the lives of Tess, Forrest, Jen, Candice, Ian and Larissa. I like when an author was bring people back into a story without them taking the story over. I really hope that there are going to be more books coming! I want to know what happens with all of them!
The Plot –
Another great story line! The diversity that Heather Wardell writes in is amazing. This story is about opening and rebuilding two restaurants, Steel and Magma. I would have have had the first clue on how to make a reader feel connected to this but Heather does a great job of it. As in the previous books, there are a couple of sub story lines that help us get to know Megan and Kegan even better. The story is completely believable and the time line makes total sense. This book made me laugh and it made me cry. I couldn't ask for more from a book.
My Rating:
I loved this book as much as I loved the other two. I highly recommend that you check these books out. You can find then on Heather's website for just $0.99 each. You couldn't find them for a better deal. Check them out and let me know what you thing.
5 of 5 stars
*This e-book was provided to me free of charge from the author for review. All opinion are my own.