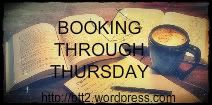 There's something wonderful about getting in on the ground floor of an author's career–about being one of the first people to read and admire them, before they became famous best-sellers.

Which authors have you been lucky enough to discover at the very beginning of their careers?

And, if you've never had that chance, which author do you WISH you'd been able to discover at the very beginning?
What a great question! I really had to think about my answer to this. I really wish that I had discovered J.R. Ward sooner than I had. On one hand it was great because I got to read a bunch of the books right in a row and didn't have to wait but I really wish I had found her earlier.