What were your favorite books of 2011?
I am glad that this came up as a question today because I was going to write a post on it anyway.  Here are my favorites from 2011 in no particular order.
The Last Awaking by Rachel Firasek
Synopsis:
For three hundred years, Arabella's life has been one meaningless death after another. In a cruel twist of fate, Osiris–god of the Underworld–gifts the phoenix her mortality and returns her voodoo magic. If she fails to harness her wayward magic and save a man worthy of a second chance, she'll forfeit her power and her soul–forever.
Ex-soldier Greyson Meadows desperately wants to be freed from the nightmares and guilt that haunt him after the tragedy that brought him and Ari together. Confronted by the waif of a woman who forces him to face his worst fears, he resists, fighting the need to keep his personal demons hidden instead of setting them free.
When Ari becomes the target of her own magical blunder, it's not just her life in danger, but now the one of the man she loves.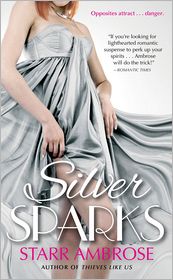 Silver Sparks by Starr Ambrose
Synopsis:
The Larkin sisters are used to hearing whispers behind their backs. Being raised by hippie parents in the small resort town of Barringer's Pass, Colorado, they were always considered oddballs, and for a while, they did everything they could to earn the name. But now, older and wiser, they're discovering that it's not so great to be the wild child, and are struggling to earn a new place for themselves in town.
When Maggie Larkin resists the come-ons of a sleazy actor in town to shoot a film, she pisses off more than a pretty boy and his manager. Turns out that Rafe DeLuca isn't just a movie star…he's possibly a killer, and Maggie's landed herself in more trouble than she could imagine. Enter Cal Drummond, cop extraordinaire, who's been trailing DeLuca himself for weeks, convinced that his recently murdered sister is one of Rafe's victims. He's determined not to let another woman be victimized by the dangerous Rafe, and if that means sticking like glue to Maggie, so be it.
Maggie and Cal seem like perfect opposites, but as we all know…opposites attract!
The Last Rising by Rachel Firasek
Synopsis:
After paying two millennia's penance to Osiris, world-weary Phoenix Ice has had enough. Saving souls without any hope for her own redemption isn't how she imagined spending eternity. Fed up, she decides her next death will be her last. But when she sacrifices her own life for a sexy Texan in a catastrophic plane crash, she has no idea the consequences will be so great…or that she'll end up back in his life for her next assignment.
Now that Turner Alcott has survived the worst, finding a wife and mother for his son matters more than ever before. When the mysterious Ice comes into his life, Turner knows she's the one—but love is the last thing Ice wants. If he wants to win her heart, Turner must teach Ice how to forgive herself, and prove that love is the ultimate sacrifice.
Wither by Lauren DeStefano
Synopsis:
By age sixteen, Rhine Ellery has four years left to live. She can thank modern science for this genetic time bomb. A botched effort to create a perfect race has left all males with a lifespan of 25 years, and females with a lifespan of 20 years. Geneticists are seeking a miracle antidote to restore the human race, desperate orphans crowd the population, crime and poverty have skyrocketed, and young girls are being kidnapped and sold as polygamous brides to bear more children.
When Rhine is kidnapped and sold as a bride, she vows to do all she can to escape. Her husband, Linden, is hopelessly in love with her, and Rhine can't bring herself to hate him as much as she'd like to. He opens her to a magical world of wealth and illusion she never thought existed, and it almost makes it possible to ignore the clock ticking away her short life. But Rhine quickly learns that not everything in her new husband's strange world is what it seems. Her father-in-law, an eccentric doctor bent on finding the antidote, is hoarding corpses in the basement. Her fellow sister wives are to be trusted one day and feared the next, and Rhine is desperate to communicate to her twin brother that she is safe and alive. Will Rhine be able to escape—before her time runs out?
Starcrossed by Josephine Angelini
Synopsis
Helen Hamilton has spent her entire sixteen years trying to hide how different she is—no easy task on an island as small and sheltered as Nantucket. And it's getting harder. Nightmares of a desperate desert journey have Helen waking parched, only to find her sheets damaged by dirt and dust. At school she's haunted by hallucinations of three women weeping tears of blood . . . and when Helen first crosses paths with Lucas Delos, she has no way of knowing they're destined to play the leading roles in a tragedy the Fates insist on repeating throughout history.
As Helen unlocks the secrets of her ancestry, she realizes that some myths are more than just legend. But even demigod powers might not be enough to defy the forces that are both drawing her and Lucas together—and trying to tear them apart.
Skinny by Diana Spechler
Synopsis
After her father's death, twenty-six-year-old Gray Lachmann finds herself compulsively eating. Desperate to stop bingeing, she abandons her life in New York City for a job at a southern weight-loss camp. There, caught among the warring egos of her devious co-counselor, Sheena; the self-aggrandizing camp director, Lewis; his attractive assistant, Bennett; and a throng of combative teenage campers, she is confronted by a captivating mystery: her teenage half-sister, Eden, whom Gray never knew existed. Now, while unraveling her father's lies, Gray must tackle her own self-deceptions and take control of her body and her life.
Visceral, poignant, and often wickedly funny, Skinny illuminates a young woman's struggle to make sense of the link between hunger and emotion, and to make peace with her demons, her body, and herself.
Divergent by Veronica Roth
Synopsis
In Beatrice Prior's dystopian Chicago, society is divided into five factions, each dedicated to the cultivation of a particular virtue—Candor (the honest), Abnegation (the selfless), Dauntless (the brave), Amity (the peaceful), and Erudite (the intelligent). On an appointed day of every year, all sixteen-year-olds must select the faction to which they will devote the rest of their lives. For Beatrice, the decision is between staying with her family and being who she really is—she can't have both. So she makes a choice that surprises everyone, including herself.
During the highly competitive initiation that follows, Beatrice renames herself Tris and struggles to determine who her friends really are—and where, exactly, a romance with a sometimes fascinating, sometimes infuriating boy fits into the life she's chosen. But Tris also has a secret, one she's kept hidden from everyone because she's been warned it can mean death. And as she discovers a growing conflict that threatens to unravel her seemingly perfect society, she also learns that her secret might help her save those she loves . . . or it might destroy her.
Debut author Veronica Roth bursts onto the literary scene with the first book in the Divergent series—dystopian thrillers filled with electrifying decisions, heartbreaking betrayals, stunning consequences, and unexpected romance.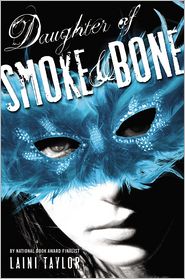 Daughter of Smoke and Bone by Laini Taylor
Synopsis: Around the world, black handprints are appearing on doorways, scorched there by winged strangers who have crept through a slit in the sky.
In a dark and dusty shop, a devil's supply of human teeth grown dangerously low.
And in the tangled lanes of Prague, a young art student is about to be caught up in a brutal otherwordly war.
Meet Karou. She fills her sketchbooks with monsters that may or may not be real; she's prone to disappearing on mysterious "errands"; she speaks many languages–not all of them human; and her bright blue hair actually grows out of her head that color. Who is she? That is the question that haunts her, and she's about to find out.
When one of the strangers–beautiful, haunted Akiva–fixes his fire-colored eyes on her in an alley in Marrakesh, the result is blood and starlight, secrets unveiled, and a star-crossed love whose roots drink deep of a violent past. But will Karou live to regret learning the truth about herself?
So, those were some of my favorites from 2011.  What about you?