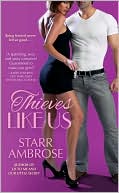 Product Details
Pub. Date: November 2010
Publisher: Simon & Schuster Adult Publishing Group
Format: Mass Market Paperback , 368pp
Synopsis
Her ex stole the jewels, but this bad boy just stole her heart. . . .
After ditching the ruthless Banner Westfield, aka "the world's worst husband," sexy and fiercely guarded Janet Aims thinks the least she deserves for surviving attempted murder is a chance to cash in on her losses. Step one is hocking the wedding ring and ridiculously tacky necklace given to her by her conniving ex.
But just when Janet thinks she's buried the past, the police claim that the necklace is part of the stolen Pellinni Jewel collection. Which means that even prison can't stop Banner from dumping her smack in the middle of his evil schemes again.
With Colombian gangsters and jewel thieves hot on her trail, Janet has no choice but to turn to smoldering ex-con Rocky Hernandez, the one man who can make her fragile heart pound. Partnering up with a certified hottie who knows the ins and outs of Detroit's seedy underbelly as well as he does a woman's body might have its perks if Janet's life—and her heart—weren't on the line. . . .
My Thoughts
I LOVED this book.  It was great to revisit Janet from Starr Ambrose's book Lie to Me.  It is nice to see that she has made a lot of changes in her life and seems to be moving on with living and life with out her ex-husband Banner.  The story picks up with Janet selling jewelry Banner has purchase for her and getting herself into a ton of trouble with the law as it is discovered that this is a piece from a priceless set of jewelry that has been missing for a very long time.  With all this trouble, Janet turns to Rocky Hernandez, an ex-con, for assistance with not only finding the other pieces of the missing set but to keep her safe and out of trouble.  Sexual tensions brew between these two from the very first time he is introduced.  I will have to admit that I love his character.  There are a few hot and heavy love scenes that make this book for adults only, but there are amazingly written.  Starr Ambrose has a way with words that demonstrates the strong sexuality between these two without being too much like reading an erotica book.  It is a great balance.  The outcome of this book was not what I thought that it was going to be, but it was even better.  I would highly recommend all of the books written by Star Ambrose but I think that this was the best one yet.  One strength that I see in the writing is that the book is set in Bloomfield Hills, Michigan and Starr Ambrose does a wonderful job of describing the area in perfect detail.  For me, this is amazing.  I have read a lot of books that will be placed in a town but there is never anything written about the area that someone would really be able to picture it.  This book does that and more.  Be prepared to want to read this book in one sitting, you won't want to put it down!  I give this book 5/5.  Get it read it and Enjoy Janet and Rocky!