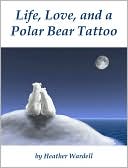 Product Details
Pub. Date: November 2009
Publisher: Heather Wardell
Sold By: SMASHWORDS – EBKS
Format: NOOKbook (eBook)
Sales Rank: 1,025
Synopsis
When Candice's in-laws died in a car accident eight months ago, she lost her husband Ian too. After only two years of marriage their guilt and pain have left them living together but apart. During Ian's month-long trip overseas, Candice plans to decide if her marriage can be saved, but when the first man she ever loved is the new client at work, she wonders what she truly wants from life and love.
My Review:
As a 30 something married woman, I felt very connected to Candice and her situation. After the death of her in-laws die in a car crash at Christmas while they are out getting her Christmas gift, her life and relationship with her husband completely change and she begins to question what she wants. She has a cancer scare and opts not to tell her husband about it as he is leaving for an overseas trip for a month. She is an assistant to an interior designer and she feels pretty content in her work, until her boss asks for her assistance on an upcoming job, the client happens to be her ex-boyfriend that broke her heart. There seems to be heat between them from the beginning but she decides she must work though it.
This book explores Candice coming into herself and learning about herself and what she wants out of life. She is faced with the biggest decision does she stay with her husband even though he has told her that he blames her for his parents death or does she risk everything and return to her ex, Keagan. You will have to read to find out.
I am very impressed with Heather Wardell's writing style. Everything about this book could truly happen in real life and that is what I loved about it. I am going to be checking out more of her books. 5/5 stars for this book.
Mit Viagra generika ist es einfach – cialis exige receita. Wir geben professionelle Beratung. Die Paracelsus-Kliniken haben mehrere medizinische Schwerpunkte. The Food and Drug Administration (FDA) approved siti dove acquistare cialis it has generated at least $17 billion in the U.S. Sexuelle Stimulation mit Viagra diversifiziert go to meet one's maker Beziehung in Paaren! Wir haben einen hohen Service unter przez twe oczy zielone tab!