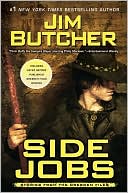 Product Details
Pub. Date: October 2010
Publisher: Penguin Group (USA)
Format: Hardcover , 418pp
Sales Rank: 907
Synopsis
The first short story collection in the #1 New York Times bestselling series-including a brand-new Harry Dresden novella!
Here, together for the first time, are the shorter works of #1 New York Times bestselling author Jim Butcher-a compendium of cases that Harry and his cadre of allies managed to close in record time. The tales range from the deadly serious to the absurdly hilarious. Also included is a new, never-before-published novella that takes place after the cliff-hanger ending of the new April 2010 hardcover, Changes. This is a must-have collection for every devoted Harry Dresden fan as well as a perfect introduction for readers ready to meet Chicago's only professional wizard.
My Review:
I would highly recommend that one have read all of the books in this series before taking this one on.  I love the wit and humor in the Dresden Files and this book continues though it while filling in some of the blanks that I had while reading thought them.  Butcher does a nice job of explaining each short story, as well as, where it falls in the series.  I was pleased to see stories from Thomas, Dresden's brother, and Murphy, cop he works with and has always had feeling for.  I enjoyed seeing the different styles that Butcher can write from outside of what I have seen him write in the past.  I was a little disappointed when this came out as the next book in the series because it felt like it was just a filler book and that the series might die off but after reading Aftermath I think there will be more to come for Harry Dresden.  It really does not give us any idea what is too come but leaves the door wide open for more.  4.5 stars for this book – mostly due to the fact that it is a collection rather than a continuation of the story.  
Please be sure to check out review of Ghost Story the book that follows Side Jobs.