Falling in Love at 17
Falling in love is easy. Staying in love … more complicated.
At 17, life is about new experiences. It is about self-discovery, friends, adventure, mistakes, career and university choices. And let's be honest, there are not many 17 year olds out there that aren't interested in falling in love.
But how many are truly interested in falling in love with THE ONE at 17?
I'm not sure I was. In fact, I probably wasn't. I was planning to take the world by storm – solo. So when I met Matt, well, actually … it was pretty darn amazing. But it was a little frightening too.
When we first got together, it was sweet and young and … perfect. I was head over heels. But things became complicated quickly. He was an up and coming athletic star and I was working in hospitality. So basically he worked hard in the day, and I worked hard at night. His lifestyle demanded routine and healthy living, mine … not so much. But we were determined to make it work.
Falling in love so deeply at a young age made it difficult to be as reckless as our friends. We watched them coast in and out of short, fun, but meaningless relationships and it just seemed so different to what we had.
Writing the Embrace series has been an opportunity for me to pour some of the incredibly intense emotions of young love into Violet's story. It has been important for me as a writer, and a person, to recognize that it's completely realistic for someone at her young age to experience the full effect and heartbreak of love. Violet is one hundred percent invested with her heart. She makes bad choices, but we have to. She regrets many of her decisions, because we all do. And she fights for what she loves, because she is compelled to. Violet's story is unique to her, I don't pull on parallel scenarios from my own life, but I do pull on the emotion of intense love. Love that I think adults sometimes forget that 17 and 18 years-olds are very capable of feeling.
I often find one question helps a lot of adults, who maybe disagree with this view, to be more open minded: Do you remember you first true love? Do you ever wonder what your life would've been like if you had stayed together? For some, the answer is a resounding NOT INTERESTED, but for others … the pause says it all.
Matt and I celebrate our 11th wedding anniversary in March – I believe jewelry is in order 😉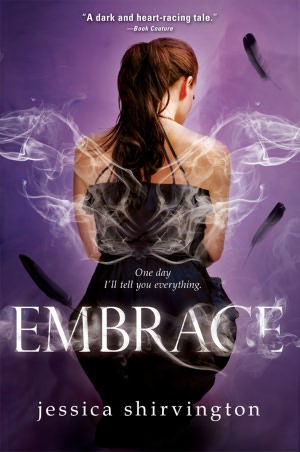 Embrace by Jessica Shirvington

ISBN-13: 9781402268403
Publisher: Sourcebooks, Incorporated
Publication date: 3/6/2012
Pages: 400
It starts with a whisper: "It's time for you to know who you are…"
On her 17th birthday, everything will change for Violet Eden. The boy she loves will betray her. Her enemy will save her. She will have to decide just how much she's willing to sacrifice.
Dangerously exciting and darkly romantic, EMBRACE is a compelling novel of good and evil, seductive desires and impossible choices. A centuries old war between fallen angels and the protectors of humanity chooses a new fighter. It's a battle Violet doesn't want, but she lives her life by two rules: don't run and don't quit. If angels seek vengeance and humans are the warriors, you could do a lot worse than betting on Violet Eden.
LINCOLN: He's been Violet's one anchor, her running partner and kickboxing trainer. Only he never told her he's Grigori—part human, part angel—and that he was training her for an ancient battle between Angels and Exiles.
PHOENIX: No one knows where his loyalties lie, yet he's the only one there to pick up the pieces and protect her after Lincoln's lies. In a world of dark and light, he is all shades of gray.
Two sides: Angel or Exile.
Two guys: Lincoln or Phoenix.
The wrong choice could cost not only her life, but her eternity…
My Review:
Wow, Embrace starts on a super high notes that grabbed my attention and left me turning page after page not wanting to put it down.  There were points during the story that I just didn't understand the decision and got a bit frustrated with it, but the closer I got to the end the more I wanted.  As the pages came closed to the end, I was left begging for more.
The mystery of the relationships were a high point for me.  You are constantly trying to figure out what is going on, who each character is and how they all fit together.  The seemingly changing relationship between Violet and Lincoln is outstanding, full of tension one of my very favorite things in a relationship.  That being said it gets very painful as Violet unfolds part of her past and realizes that Lincoln has kept a lot from her and it leaves her in a rough place.  Hard to imagine having the feelings that Violet much be having.
As much as I liked these two characters, when Phoenix, the exiled angel, hits the scene, I couldn't help being drawn to his.  He just have that presence that I love in a character, seductive, mysterious and has the ability to distract.  I just really love his character, and it left me feeling a little bad for Lincoln.
The biggest thing for me was the way the whole thing ended, I really didn't see it coming, which is out standing.  And it really took me taking a day or so to think about it before making a call on it.  What I can say it that it all just came together and I am not sure how I feel about it.  I really enjoyed the book and Jessica Shirvington's style.  I can't wait for more!
My Rating:
4 penguins, I really liked the story and where it went.
For more check out the Embrace website.