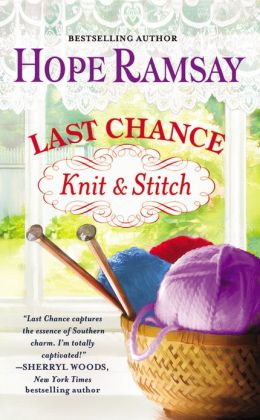 ISBN-13: 9781455522279
Publisher: Grand Central Publishing
Publication date: 11/19/2013
Series: Last Chance Series , #6
Pages: 384
Source: Netgalley for honest review
Overview
"Last Chance captures the essence of Southern charm and quirkiness. I'm totally captivated!" — Sherryl Woods, New York Times bestselling author
Molly Canaday wishes she could repair her life as easily as she fixes cars. She was all set to open her own body shop in Last Chance when her mother ran off and left her to manage the family yarn shop instead. Now guided by the unsolicited-though well-intended-advice of the weekly knitting club, Molly works to untangle this mess. But her plan unravels when the new landlord turns out to be difficult-as well as tall, dark, and handsome.
Simon Wolfe returns to quickly settle his father's estate and then leave Last Chance for good. Still wounded by a broken heart, Simon is surprised when the town's charming streets and gentle spirit bring back good memories. Soon the beautiful, strong-willed Molly sparks a powerful attraction that tempts him to break his iron-clad no-commitment rule. Can Simon and Molly find a way to share work space-and build a future together in Last Chance?
My Review
I did not even know that this book was a part of a series until I started writing this review.  Hope Ramsay did an outstanding job of giving enough of the background as the story progressed that I never would have guessed that I had missed the first 5 books in this series.  That is a quality that not many authors have and I am thrilled that I have previous books to go and explore now.
On to the story!  The characters in this story are developed and unique.  Molly our lead character is by far my favorite.  I love that she is a strong woman standing up and doing what she wants in what is considered to be a man's world!  She likes cars and restoration and she isn't going to apologize for it.  One quickly realizes that there is more to Molly than meets the eye.  While she talks good talk about not wanting a relationship, there is something deep down that gives you a different indication.  Simon well to be honest irritated me for much of teh  story.  I am not sure what it was about him that just left me frustrated.  Buck up!  So what if you though you wanted one thing in life and it is turning out differently!  That being said, he grew on me as the story progressed.  Once he started owning his life, I came to like him.  I also enjoyed all of the supporting character in the story.  Everyone from Simon's gay friend to Muffin the dog.  The supporting characters in this story were just as strong as the  main characters.  This is also something that I do not see consistently.
The plot line was strong exploring Molly and Simon and all their life hang ups.  What I really enjoyed about this story were all of the sub plot lines running at the same time.  They do a nice job of crossing over each other and the main plot line.  Molly's mother up and leaving town to see the world leaves Molly with all of the responsibility of  not only the household but the knitting shop.  There is Simon's father dying and the struggles with his mother.  Simon's art plays a large role as does Molly's Shelby and trying to save it when Simon's uncle takes control of Simon's father's Ford dealership.  And there are a few more lines running at the same time.
Overall, I really enjoyed this story and the character.  I will be going back and checking out the first 5 books in the series just to see what I have missed.